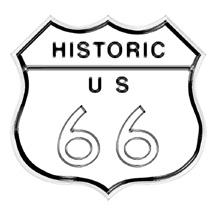 Route 66

What is Route 66 ???

Throughout it's life cycle, Route 66 has existed as distinctly different entities.

It started out as a Road of Dreams as Cyrus Avery of Oklahoma worked to provide a transportation corridor from the Midwest to the West Coast. It became a Road of Hope for the economically displaced during the Great Depression when large numbers of people shifted from the Dust Bowl to the new land of plenty in California. During World War II, it became a Road of War transporting troops and materials from the west to the east for use in Europe. After the War, it became a Road of Prosperity as America became a nation of Road Warriors and an industry was built around providing services for them. A victim of it's own success, it faded into a Road of Obscurity with the coming of the Interstates and its high speed travel. In recent years, it has become the Road of the Phoenix as it has been reborn from it's ashes to become even more than just a way to get somewhere, but a destination in itself. A growing movement has begun to rediscover, and more importantly, come off the SuperSlab Interstate Highways and take a trip back into 2-Lane Americana.

No other road is so internationally recognized or elicits such an emotional response from people around the world.

Get off the SuperSlab and experience America!
---
We first encountered Route 66 when moving from California to New York in 1994. As we passed through Arizona, we kept seeing seeing exit signs for Route 66. Having graduated from a high school in the upper-midwest that still had a non-revisionist curriculum, I was aware not only of what Route 66 was, but also that it had supposedly disappeared under the paving machines of the SuperSlab Sixties. After we had finished our move, we thought it would be an interesting departure from the norm to take a vacation back into the past and drive what was left of 66. After a quick search of the Internet we found that we were the newest members of a healthy growing movement, not a couple of social mongoloids running solo.
In the summer of '97 we were ready to take "the trip". We had finished our 1966 Mustang rebuild and were ready to go. At the beginning of June, we headed for downtown Chicago and two weeks later found ourselves at the intersection of Ocean Ave and Santa Monica Blvd. It was a glorious time of discovery and actually seeing the country we were traveling through. You would be amazed what is found out there in America when you are moving through it at 50 mph rather than travelling through a sanitized corridor at 75.
We encourage you to take a trip back into Americana and try a vacation where the trip is the destination, not merely the way to get somewhere.
---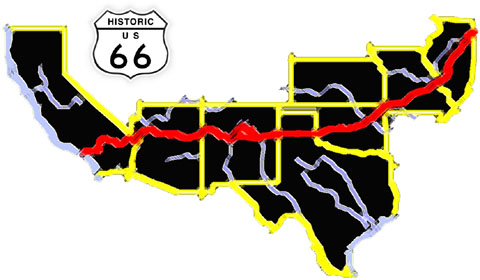 For your viewing pleasure, we have assembled a photo blog from our travels on "The Road" since 1997. Due to the extensive number of photos and VR Panoramas, they have been organized by state and are accessable either through clicking the map above or on the state navigation bar below it.
We have also included photos and VR Panoramas from numerous Route 66 events, car shows, and cruises and side trips we have visited on our Classic Mustang Page and also from links found within the state pages. For something a little different, I assembled some photos of California Route 66 from 33,000 feet. A healthy set of links to other Route 66 resources has also been included.
Starting in 2007 I have began to add QuickTime Virtual Reality (VR) Panoramas that I have taken. QuickTime VR Panoramas are interactive spherical photographs that have 360 degree around by 180 degree up/down views. To view these you must have Apple QuickTime installed on your computer. It is available for Mac and Windows systems free from Apple, Inc., at the the Apple Inc web site http://www.apple.com/quicktime/download/
We hope you enjoy the trip as much as we have!
Please send comments and/or corrections to route66@6t6kix.com
---
Apple QuickTime required to view some content.